Get More Leads For Your Wedding Business With Google Business Profile Optimization

By Brian Lawrence and Jason Mittleman
Google organic results are confusing and anyone in the world can rank for the important keyword terms you are trying to rank for. Platforms like WeddingWire, The Knot, and other media platforms often cannibalize the top positions to intercept searches looking for local wedding vendors and bring them to their platforms for access to their advertisers. This makes having your website be on Google's 1st Page results organically, harder to achieve.
Google Maps results are clear and visual, it is the preferred method over both organic and paid search that local searches are conducted, Only local businesses can be included so that reduces the competition.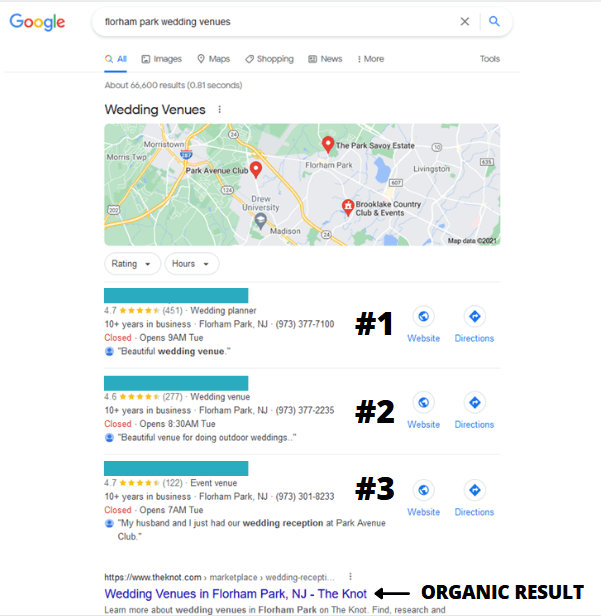 When growing your wedding business, it is important to know exactly how to communicate with search engines what your business is and what services you offer. It is the best opportunity to benefit from free wedding traffic to your website.
Before we start: What is Local SEO?
Local Search Engine Optimization (SEO) is when you increase the visibility of your business and website from Search Engines. When your local business is more effectively present, it shows up more for people searching for your wedding business. Google Business Profiles utilize one of the most prominent local business search engines in the world.
How does this impact my business goals?
When searching for the term "Wedding Venues NJ" the top 3 Local search results (1st image) that google has pulled up from my area. We call this the  "Local 3-Pack". When you do not show up in the top three results, you then appear with all other local businesses in your area. (2nd image) By appearing in the top three results, this can boost your business visibility on Google by a tremendous amount. When implementing the tactics below will help begin to boost your rankings higher.
1. Build Your Google Business Profile

When building your Google My Business Profile, there are several steps you can take in order to build it to have the maximum presence. We will be taking into account immediate and long-term tasks to take advantage of every ranking factor. Each component we are going over will help you communicate what your business means to the user.
You MUST complete all of the fields in the info tab of your profile.
Business Name – This should have your business name registered with local government agencies such as a business license. Having the name exactly found on your licenses will only infuse trust in Google that you are who you say you are.
Business Category – Select the most relevant category for the primary product or service of your company. See what competitors are using as a reference.
Address – An address should be added whenever possible. This address will not be accepted if it is a P/O Box or UPS Drop-off location. When creating your GBP account, it should be noted that you will have to add a physical address to verify your account. You can then ask for this to not be displayed via public view once verified if you are a location that does not have a physical address. Check out our service area section on what you can include as an alternative. A second option is to sublet a small bit of office space within an existing location. Example: An office within a bridal shop. Before writing the address, do a search on https://maps.google.com to find the correct nomenclature of your address. As an example: Suite 120 vs. #120. In addition, your address needs to be unique to you. If you sublet, you need to add a suite number or something to make it different. If you try to use a residential address, it will be accepted but your business profile will be devalued.

Service Areas – Where do you conduct business. You can use cities, counties, and states.
Hours of Business – Even if you don't normally list hours, you should list them for your business on your GBP profile no matter what because otherwise, it will be less complete. You can customize your hours and be granular. It is best to have set hours than "open 24 hours" for a better user experience. You should also add additional hours and special hours to make your profile more full for Google.
Phone number – Must be a local phone number to the city address above.

You need to have a unique local phone number that matches the one on your website and is only used by you. You can add a cell and toll-free number as well. D

on't use a cell phone unless it matches the area code. If the area code is not local you can get a tracking number that links to your regular phone.
Short Name – Use your business name and make it as short as possible.
Website – Verify your website loads as https and if it loads with or without the www. Be exact. Link to the designated location page if you have multiple locations.
Appointment link – Link to the contact page for the specific location.
Products – If you offer products, list them.
Services – In services you can go beyond just listing the service. Make sure to choose the most relevant service that is most relevant to your business. Then beyond adding the service you can add even a price to that service and a description. When the user clicks the service, they will see a window pop up with the description and a call to action button such as learn more.


Attributes – Complete all relevant attributes including:

From the Business
Accessibility
Amenities
Health & Safety
Highlights
Service Options

Business Description – Describe your business and include your location and areas serve, the services you offer, and other phrases commonly used by your customers. Take advantage of the 750 characters!
Opening Date – The date the business started.
Photos – When creating your wedding business profile, start by adding in your cover photo and logo images. You can then add additional images to show how your business functions or of your clients enjoying your service.
Store Code – An abbreviated code for your business. Example: BrianLawrence-01
Labels – Label the GBP profile. Example: BrianLawrence
Google Ads Phone – The same local phone number used above.
Once your page is complete, there is a critical step for your page to go live. This is called Verify Your Listing. Google takes all business accounts very seriously and to ensure your business gets listed, make sure to use one of the verification methods.
This can be done by: Mail, Email, or Phone.
2. List Your Business As a service Area (Virtual/ Mobile Location)
If you are a business that offers a service but does not have a physical office location, you can still be listed on GBP. Google allows for something called a Service Area Business. Also located in your info tab in your GBP, click service area. This can be based on towns, counties or, state-wide depending on what makes sense for your business.
3. Add Most Relevant Categories
Google allows you to choose categories based on your business. To access this go to your google my business page and click on the info tab on the left. From there click the pencil icon where the image is pointing below. Rules of thumb to follow:
Use the most relevant categories

Keep the number of categories to no more than three.

You can search competitors to see what categories they have listed.

4. Gain Google My Business Reviews


Reviews are one of the most important ranking factors for staying on top of GBP rankings for the long run. Although it is very helpful to have a lot of reviews, that's not all there is to it with your Google Business Profile. Google looks at if the review has text along with the rating, what words are used, the star rating itself, review consistency, and more.
For example, Google will recognize when there is a steady stream of reviews rather than getting them all at once. Another review component is how it is written. You can't tell somebody how to write the review but it could always be good to mention that the sentiment and how buzzwords like, easy to work with, could be helpful for others who could want your service. You can also ask clients to upload a photo when they write their reviews.
The last major component is a star rating. If there are several negative reviews, it could be a very strong indicator that a change could need to occur. Reviewing customer feedback and making the change will only add higher positive reviews in the future and help the overall rating of the business.
Here few ways to receive GMB reviews
Reach out to previous customers for a review

Incentivize a review by having an event or donating to a charity
Note: Google has strict guidelines against soliciting to receive reviews. To stay in check with this, never offer something in exchange but having something like donating to a charity when a new review is added is acceptable.
And don't just mention reviews once after the event and hope for success. Weave it through the whole process. Make it easy for customers. Activate your free GMB website using the profile control panel and get a link that you can use to get reviews. You can also generate a unique QR code for Google reviews.
Google review response tips:
must respond within 24-48 hours
include keywords in your response to personalize it like the venue name, city, etc.
If an old review, respond on their anniversary wishing them well and re thanking them – put it on the calendar as a reminder. never respond to a review 6 months later.
How to deal with negative Google reviews:
Remember that clients who are unhappy are simply often more motivated to leave reviews than happy clients.
Try to dilute these negative reviews by encouraging happy clients to review you.
Still, respond to low-star reviews to show that you actively manage your profile and have engagement, but always take the high road and be professional and respectful.
Take any dispute offline if possible.
You can flag some bad reviews if they violate Google's policy. For example, if they are inappropriate, there are multiple from the same client and considered spam, the testimonials are irrelevant because they have the wrong business, etc.
5. Fight Google My Business Spam
When exploring GMB Listings, you could notice that there could be listings that try to gain ranking by illegal practices:
Keyword Stuffing


Example: Joe's DJ Service- Top DJ- Wedding DJ- Barmitzvah DJ-Church DJ




When a title like this is added, this goes against google's intentions on how businesses are supposed to be displayed. Thankfully Google has added a way to communicate that this is incorrect. For any profile, you can suggest an edit and request to edit the business name. This is usually monitored by a google service professional and may help change the name.

Spam Business.




Unfortunately, not every single business on google is what it states it is. Sometimes a business can rank when the profile is not a real location. The internet is filled with negative content and here is a way to fight back against that negative business. When suggesting an edit, you can choose to "Remove this Place". When suggesting this type of edit, Google will ask for a reason. This can range from Doesn't exist to Spam, fake, or offensive. By choosing one of these. Google will review if this profile should be removed based on the legitimacy of the profile
If this does not work you can go a step further and submit a formal complaint here.
6. Keep Your Google My Business Page Updated

A major GMB ranking factor is how your page is continuing to stay active. If you create the page and then leave it alone for several months, you may notice that when searching for your business, it is lower on the list. The easiest way to prevent your page from becoming "Stale" is to add new content minimally once per month. The easiest way to go about this is to add a new photo to your business page. This communicates with Google that you are a business that is still active while also showing your community new content.
To keep your GMB page fresh, complete the following

Go to your google my business page and click manage now.

https://www.google.com/business/

Click your business name (It should be the only option)

Then click "Add Photo".


Click the plus button and a new photo. Once this is completed your page is updated and fresh.



Here are a few best practices when adding your photos to GMB or your website.



Your original image should be a minimum of 720 x 720 pixels and under 1000 x 1000 pixels

Add original photos over stock images and ideally use photos that are from your website with the same meta data

Add keywords to your photo name. To do this right-click the photo before uploading then change the first line within general.


Once the photo is uploaded be sure to add relevant tags. To do so follow the image below by clicking the "i" in the top right corner of the newly uploaded image.


7. Have Popular Questions and Answers

Google allows the community to ask and respond to questions about the business. The best practice for questions is to work together with your community on somebody you know who has questions. See if they are willing to ask it on the Google profile. You can then answer them on your own profile. Ideally, if this can be broken down over several weeks, it will give the highest possible feedback to google.
8. Enhance Your GMB Profile with Posts
Posts are a way to stay in touch with the community. This strengthens your GMB Profile Overall. This is broken down into 5 categories. Each option caters to what type of post you're trying to communicate about.
Covid- 19 update – If Covid-19 has impacted your business, you can communicate how you have accommodated your clients in a positive way.

Offers – The offers are broken down into main and optional categories. It is best practice to add as much information as possible to entice the user to want your service. Example: If you're a DJ Company, you could post about a combo MC/Dancer Package with a combination price.

What's New – If your business has changed or added a new service this is a good category to add the information

Events- If something special is happening for your business tell the community about it.

Add Product – If your business has added a new product, make sure to inform the community. For example: If you are a floral service, add a newly popular type of flowers you started to use

Photos – GMB photos are also a long-term GMB plan because it is an easy way to keep your profile fresh. If you are in a competitive market like Venues or DJs, Google will take notice if your profile becomes "stale". To counteract this, add at least one photo a month to communicate that your business is still running properly. Once a week is even more ideal.
Some posts do expire in 6 days. Stay active and always visible in your business knowledge graph. Google likes to see activity!
9. Modify Business Info For Voice Search
When optimizing your wedding business for Voice Search, There are four voice-enabled platforms you should focus on. It is important to have all of these listings named exactly the same. The easiest way to keep track of the information is to match all of your listings to your Google My Business Profile.
10. Add Your Business to Relevant Citation Sites

We have also created a list of sites that also host local listings that you register for individually. Be sure to add yourself to the site based on what products and services you offer. All local listings will contribute to your site being found. As we have mentioned before, make sure that the information you add matches your GMB Profile. This particular task can be very time-consuming.
Click here to see where you are currently listed.
Here is a list of the top local citations: https://www.brightlocal.com/citation-builder/us-citation-sites/
11. Add a Panoramic 360 Tour of your Business Location

Adding a Panoramic Tour can greatly boost your user experience and can help your business stand out from other competitors. Google directly vouches that having a 360 tour will boost visibility. Here they go over what is called the "Street View" benefits. Google then gives you a certified list of who you can contact to have this done for your business.


Additional Resources For WordPress Users
12. Add Keywords and Customize Your Site Links (For WordPress Users)
WARNING: Speak to a web developer before making the following permalink changes as this COULD break your website! Plus, if you change permalinks, redirects will need to be put in place in order to not lose rankings.
Making sure your sitelinks are optimized can boost your SEO rankings and tell the user exactly what the page is about.
Log-In to the admin side of your word-press website.

In the left tab hover over settings then click permalinks. This will let you edit each URL for each page. This setting could already be active.


Once On the page Choose Post name as the option for the URLs.



Now on the left tab click on Pages.

Hover your mouse over the first option and then click edit.

On the right bar, you will see several options to click. Choose the permalink tab.


Add a phrase that matches what is relevant to your business and what is on the page. Example Below



You can then click update on the top right section of the bar and repeat the process for each page on your site.
13. Add Schema To Existing Site Pages (Instructions for WordPress Site but can be done on other platforms)
Schema is the language search engines use to communicate with what is on a website. Schema can look confusing at first but once you add it to a few pages on your site, it can be easy to identify what makes sense for each page. This may be a service you want a pro to take on for you.
To Add Schema to your site the first step would be to go to this website.

https://technicalseo.com/tools/schema-markup-generator/

From here you can choose a local business schema.



Fill out the information as detailed as possible. Once it is done click the copy icon in the top right corner.

Go to Google's

Rich Results Test




Click the code tab and paste the code.

For other types of schema, you may encounter a warning. That is technically okay but make sure that there are no errors. If there are, recheck to make sure all the information was added correctly. An error will result in the schema not communicating the data to Google. If there is an error, recheck that all the data is entered correctly and copy the link again. Once all errors are not present, you can go to the next step

Go to your site control panel and log in as an admin. (Illustration is for a WordPress site but can be done in all platforms.

Then go to the pages tab on the right and find the webpage that is your home page.

Add a new section within the body of the page and choose code instead of text. Paste the code into the section. Click Update.



You can then copy and paste the live page URL into the Rich Results test and you will see that your schema is live.

Some WordPress Plugins like Yoast, add some basic schema to your website automatically. Doing a rich results test using URL ahead of time can save you time by not duplicating schema.
14. Optimize Your Photos for Page Speed (For WordPress Users)
When your wedding site loads, it is critical for your page to load fast. Many studies show the faster a site is the higher it usually ranks in organic search results. Strong site loading times impacts "bounce rate" by ensuring that users stick around rather than going onto another site. Search engines like Google put a lot of weight on this metric.
You can actually test your page's speed performance with a tool that Google has created – that's how important this factor is. Try running your current site here on PageSpeed Insights and check your score. 50 or above is good. 1-49 means that your site will be marked down by Google as a result of its loading time. The worse your number the worse your ranking is going to be. Make sure to analyze both mobile and web results.
One of the major elements that slow down your site is the images. When putting photos on your website you want high quality with a smaller number of pixels. This helps avoid big images slowing your site down and affecting user experience and Google as well. To add new images to your site, size them appropriately and follow best image practices outlined earlier in this article, such as using keywords in the image name and so on. Make sure the "link to" setting is marked to none.
By reducing the image file size (not the size of the image) of photos currently on your website you can help speed up your page. To do so complete the following steps below.
Log-In to the admin side of your word-press website



On the left tab click media

Click on the image you want to edit. Note: When starting this, choose the most important images first. This could be the first picture your audience sees when they go to your website

Click the image and look in the right corner of the window to identify the current file size. If it is over 100 or not near 100kb, you can reduce this size to decrease page speed.


While in the window click copy URL to the clipboard.



Open the Url in a new tab, right-click it (command-click if you are using a Mac) and save the image to your computer.

You can close the tab with the image.

In a new tab go to

https://www.reduceimages.com/

Once on the page click Select image and choose the image you downloaded.

Change the quality of the image to 50% and Click resize to download the image



Go back to your WordPress site and go to the Pages tab which is right under media.

Go to the page where the image is located and select to edit or replace the image.

When choosing the image remember to choose to upload a new image.



Once it is uploaded, you have successfully contributed to reducing your page load time. Remember to click publish on your WordPress site for the change to become live.
Following these tips can help build a strong foundation for having your business grow. It is critical that you continue to spend time updating and making your profile the best it can be, with consistency yielding the greatest results. If you are interested in learning more about wedding optimization options, you can view my 5 Best Ways Wedding Vendors can Optimize their Blog for More Sales. Hiring a Google My Business Professional can accelerate the optimization and traffic growth process. If you would like more information, you can contact me here.