The Wedding MBA 2023 Convention Tips & Guide
Updated: June 23, 2023
Overview:
Having spoken at Wedding MBA on numerous occasions and also attending many seminars of my colleagues, there is no rival for the educational experience a wedding business will receive. Industry greats like Alan Berg and David Tutera attract large audiences as keynote speakers. In addition, there are so many topics and vendor category-specific breakout sessions, one can transform the future of their business in this concentrated, wedding industry-focused learning experience.
Equally as important is the trade show that features the best wedding business resources including leading advertising platforms, marketing companies, consultants, wholesale products, and many other useful categories.
What is the Wedding MBA show?
The Wedding MBA conference is an annual event to bring wedding industry professionals (more than 5,000) together to learn tips to grow their businesses and make connections within the wedding industry. You can listen to industry-specific presentations and also broad topics for every business. Plus, exhibitors showcase their products and services in the exhibitor hall.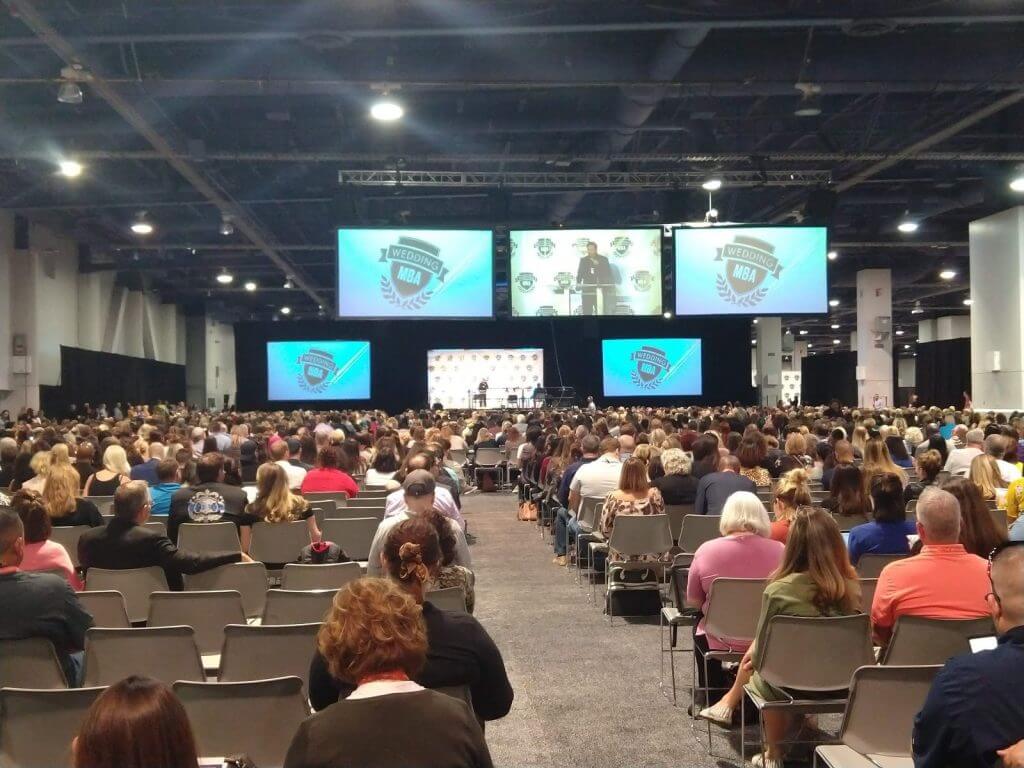 When is the 2023 Wedding MBA conference?
The Wedding MBA conference is held each year at the South Hall of the Las Vegas Convention Center in Las Vegas, Nevada typically in October or November. The event is from November 6 through November 8, 2023.
The South Hall is located a few blocks east of the Las Vegas Strip off of Desert Inn and Paradise Road. Keep in mind that Desert Inn Road does NOT cross Las Vegas Boulevard – it goes underneath it! In correlation with the Strip, the Convention Center is parallel to the Wynn Resort.
Need directions to the South Hall? See the map below:
What does the Wedding MBA cost?
The cost like most conferences varies depending on how early you purchase your tickets. The best deal is always day one of the conferences for the following year at $150. If you can swing the fee is the least expensive on day one for the following year! Then, there is an increase between day two and day three. Finally, after the conference is $209 until June 25th, and afterward, for those that like to procrastinate is $419. You can purchase your tickets here.
Keep in mind that this is the cost of the conference only. You still need to plan for other expenses such as a hotel room, transportation within the city, parking if you rent a car (including at the Convention Center), food & drinks, airline tickets, and entertainment.
Who exhibits at the Wedding MBA?
The who's who in the wedding industry attend the Wedding MBA. This is their chance to connect to wedding industry professionals and to sell their services.
The Knot
WeddingWire
PartySlate
Industry Associations
Software providers
Wedding industry suppliers
200+ exhibitor booths could help you with your business
What will I learn from attending the Wedding MBA convention?
First and foremost, if you are in the wedding industry, this is THE conference to attend and learn to grow your business. Don't worry if you are not a wedding photographer, wedding DJ, wedding florist, officiant, wedding whatever. People are attending to make personal connections and learn from others that are experiencing the same as you are right now! So, even if you are a wedding blogger or a specialty wedding gift maker, learn from other wedding professionals.
The Wedding MBA conference has a star-studded lineup of speakers to grow your business and get new ideas. Not only are there many industry-specific tracks (see below), but you can also learn SEO tips, social media tips, wedding trends, marketing, and business tips, and so much more. Let's not forget the real connections you make with people who experience the same trials and tribulations as you are now and will experience.
Over 150 Seminars from 100 Speakers
What is the conference schedule?
In order for attendees to benefit from their own specialty conventions, many presentations are divided into tracks. Industry tracks include 8 wedding specialties.
Wedding Pro Business, Style, Tech, and Sales Seminars for the following industries:
Catering & Cakes Conference
DJ & MC Conference
Florists Conference
Gown & Tuxedo Shops Conference
Officiants Conference
Photographers Conference
Planners & Designers Conference
Venues Conference
The best part about the individual tracks is that you can mix and match attendance between them. If the Photography track is offering tips about sharing pictures on Pinterest, you can pop into that one session and then go back to your own specialty track. You are not confined to your own specialty.
You can download the latest version of the Wedding MBA schedule here.
What are some tips I should know before attending the wedding conference?
Enjoy a few tips to help you prepare yourself and your suitcase for attending the Wedding MBA:
Bring comfortable shoes. I realize that you will be in the presence of many wedding professionals (more than 5,000 actually). But, you will be doing LOTS of walking. It is better to keep your feet and calves happy than being in pain.
Print out the schedule beforehand. There are many great presentations. Plan to attend the talks that will help grow your business.
Make connections. The best connections you can make are the ones before and after presentations, in the hallways, at the industry happy hours, etc.
Bring a sweater. Depending on the weather, it could be chilly outside and the air conditioning running on the inside too. Better yet, dress in layers.
Bring LOTS of business cards. This is the easiest way to make a quick connection.
Walk the exhibitor hall. I know you are there to learn. However, there are many great vendors to assist in your business that you didn't know existed.
Update out-of-office reminders. Update your voicemail and emails with details you are attending a wedding industry conference and you will get back to them as soon as there is a break to respond.
Bring snacks with you. Stop by a local convenience store (CVS is on The Strip) and pick up some water and healthy snacks to satisfy your urgent hunger pains.
Bring a badge ribbon. I know this sounds crazy, but if you have a ribbon that goes on the bottom of your badge that says "Smile", or "Dream Maker" – whatever it is – it will help you stand out in a crowd.
Bring a portable phone charger. All of the plugins are scarce and typically used.
Bring your own bag to carry "stuff". Backpacks are best to free your hands.
Bring a notebook and pens to take notes.
Lanyards (badge holders) will be provided to designate your primary industry. Note: the lanyards do not identify with any special admittance or attendance. The industry selected only helps guide vendors as to which industry you are in.
If I had to give a review of the Wedding MBA conference, what grade would I give it?
The Wedding MBA is a must-attend event for anyone in the wedding industry. Attendees get information that will help them organize, run, and grow their business. The best part is making connections with other people in the wedding industry. You will create life-long friendships if you are willing to step outside of your comfort zone.
The highest grade I can give is an A+ for all involved in organizing the event, speakers, and attendees. A must-attend event for anyone in the wedding industry.