INDUSTRY SPECIFIC SEOWe drive more qualified leads to wedding & event businesses
Alan Berg and Joe Bunn Recommended Expertise
I have seen too many clients trust generic SEO companies that promise page-one results yet do not help you rank for terms that actually have a high search volume. As Joe Bunn's and Alan Berg's recommended resource with decades of experience in weddings and events, I understand the unique nuances that go into SEO for businesses like yours.
I was personally trained by SEO Expert Steven Scott, founder of the Tampa SEO Academy, and am aided in SEO services by top wedding industry SEO analyst Matt Campbell, founder of MyWeddingSongs.com, Wedding MBA Speaker and SEO writer.
Why You Need SEO
75% of people do not scroll past the first page of search engine results – if your business is not on page one for keyword phrases you would want wedding couples to find you for, you will only be seen by a limited number of potential customers, a missed opportunity. Whether you're a venue owner, DJ, caterer, photographer, or another wedding/events business owner trying to get more leads and grow your company, search engine optimization can be a 24/7 opportunity to generate leads without paying for advertising.
What You Don't Know Can Hurt You
I have seen too many websites, whose SEO is totally neglected. Too many clients trust generic SEO companies or their web designers that may think they did a good job but because a lot of the work is not visible, they don't realize what is lacking. Working together, we will educate you on what we are doing and guide you to do things on your own to save money and improve results. I pride myself on my transparency.
One-and-Done SEO Services Package
with immediate results
Increase Site Speed – 40% of people abandon a site that takes over 3 seconds to load, dramatically hurting user experience and Google ranking

Install Schema – Installing Schema allows search engines to go through your site faster and understand how to rank you correctly

Advertising Analysis – We will help you to improve your response on any industry platforms by identifying poor performing paid options and finding new opportunities

One-Time GBP Optimization – Google values Google Business Profiles which are completely filled out, so we will help you build the ideal listing and advise you with action steps to continue to improve your ranking

Fix Broken Links – There may be pages from an old version of your website that no longer go to the correct destination, which is bad for users and can hurt your SEO ranking
Valuable Backlink Setup – Get you free advertising by setting you up on numerous wedding industry websites which both helps your exposure and creates valuable backlinks to help your SEO

Improve Your Website's Title Tags and Meta Descriptions – We'll help your site better speak to Google, making sure every one of your important website pages are customized with effective keywords and descriptions that will help you rank higher in the search results and inspire people to want to click onto your website
"Brian and his team worked diligently on our SEO. We were lost in the sea of entertainment listings and now we are listed at the very top of Google listings thanks to them!" – Jim Collins, Founder of Collins Entertainment
"Hey, Alexa…"
Wedding couples are being retrained to no longer search by typing in keywords like "wedding venues" but begin their search journey with a question or query such as "Where are venues near me?" or "what venues are near the beach?" That is because with Google's more intuitive search functions, GPS tracking, digital assistants like Alexa, Siri, and Google Assistant, it's more like asking for help and feeling understood. Even in searching, more than 50% of the searches are more than 4 words – people are getting more specific and looking for specific answers. Having proper schema language in the back-end of your site can help you make sure that Google features your site on matching search terms.
"We hired Brian to help us with an update to our website that needed improvement and also to clean up the back-end of the site and the SEO. Brian listened to all of my concerns and brought in all the right people. He and his team have been terrific to work with and we were thrilled with the results." – Colleen Bauer, Founder at Fairy Godmother Events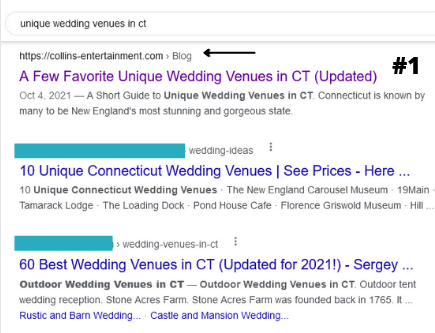 How To Blog To Actually Increase Your Business
Most wedding vendors blog without an understanding of the potential benefits. There are multiple ways to utilize a blog to work on your behalf generating leads, but SEO is at the core of all of them. With a team of industry savvy writers and researchers, our specialty is to create blog posts that actually bring wedding couples to your site in a more profound way than any individual page on your website. We do that by creating the blog to rank for an important keyword and then continue to update your post on a regular basis which has proven benefits to improve the ranking.